w3/telephony – A call is all!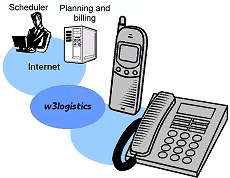 Call without calling
Your employee dials a number and is guided through a menu in his own language: He confirms tour stops and receipts of shipments, he reports special events – all by keyboard input, on any mobile or conventional phone. At any time, he gets detailed explanations what to do next – and if an error ocurrs, he is informed at once. Your customers inform themselves via the internet or receive automatically generated e-mails.
When is w3/telephony most suitable?
w3/telephony is the best solution if your employees use shipping documents anyway: From those they take all important information like addresses and information about shipments. Due to the easy handling you can use telephony even if you work with various drivers and subcontractors.