Container tracking by mobile phone and WAP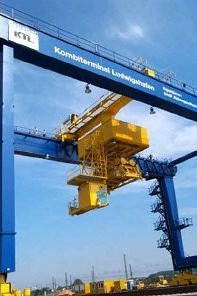 KTL Kombi-Terminal Ludwigshafen GmbH conducts container transports on the company premises of BASF in Ludwigshafen. For optimisation of the truck transports, KTL has chosen an ASP solution of w3logistics. By employing the standard software w3logistics/TS, KTL uses mobile communication with standard mobile phones via WAP and GPRS.
Roland Klein, CEO of KTL: "With w3logistics' solution all data is available in real time. Manual capturing of driver notes is now superfluous, we save time, and the quality of the data has encreased to a great extend. The system offers a lot of possibilities for data analysis."
Due to the use of standard components, w3logistics was able to implement the solution within three weeks after receipt of order.
The solution installed at KTL is currently used for documentation of the work progress only. Nevertheless, a more in-depth use is planned. Roland Klein: "We see the present solution as our first step into mobile communication, and we will go for a multitude of optimisation potential."
Read also …
w3logistics wins LOG-IT Contest
"w3logistics offers a telematics solution that provides a free choice of mobile devices and thus can be tailored to the needs of different logistics providers", said Mr Dr Thomas Ruffing of the Deutsche Post AG, Bonn, in his honorific speech for the laureate ... more

GPRS based transport logistics at DIREKTexpress
Sendungsverfolgung in Echtzeit: Mit der DIREKTexpress, Ulm, hat sich jetzt einer der führenden KEP-Dienstleister bei hochwertigen, verlustgefährdeten Güter für eine ASP-Lösung von w3logistics entschieden ... more