w3logistics wins LOG-IT contest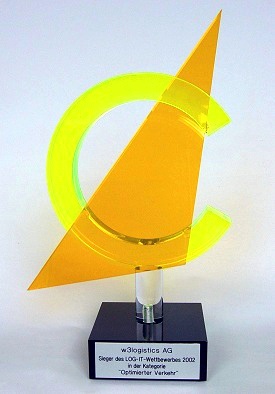 "w3logistics offers a telematics solution that provides a free choice of mobile devices and thus can be tailored to the needs of different logistics providers", said Mr Dr Thomas Ruffing of the Deutsche Post AG, Bonn, in his honorific speech for the laureate w3logistics.
Simplifying communication between the driver and the scheduler – this already implemented idea of the company founded in year 2000 was awarded the price in the category "optimised traffic".
The reward of 100.000 Euro ist earmarked – this fits w3logistics plannings: Readiness for marketing of an integrated driver navigation and the use of UMTS is scheduled for the end of the year.
* * *
You would like additional information on our products?
We will gladly arrange a personal demonstration or send you information material.
Call us today or send us a message!
Read also …

GPRS based transport logistics at DIREKTexpress
Sendungsverfolgung in Echtzeit: Mit der DIREKTexpress, Ulm, hat sich jetzt einer der führenden KEP-Dienstleister bei hochwertigen, verlustgefährdeten Güter für eine ASP-Lösung von w3logistics entschieden ... more