w3logistics supplies telematics for containers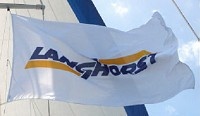 Heinrich Langhorst & Co. KG ships more than 140.000 containers per year. The family-owned company has been existing for 90 years, and combines tradition with modern technology. Tracking & tracing is handled with a mobile solution developed in cooperation between Tele-Trac and w3logistics, and it was specially tailored to the requirements of container forwarders: document printing in the vehicles, integrated navigation, and different system variants for short and long-distance traffic exactly cover all needs of this industry.
Both partners contributed their special knowledge to the telematics solution: The Tele-Trac Kommunikations GmbH is the successful supplier of the planning and control solution Optibox. From many reference projects, the Bremen company therefore knows processes and requirements of the container logistics industry. The w3logistics AG from Dortmund delivered the implementation based on mobile communication with a central Internet server. In doing so, they used their know-how from many warehouse management and telematics projects. The conjointly developed solution already proved itself in live operations, now Langhorst could be won as a further customer.
For Langhorst, key aspects for choosing Tele-Trac and w3logistics were the high ease of use and the full integration into dispatching and billing, moreover, the solution including the mobile devices is completely maintainable on-line
Ralf Langhorst, managing director of the Bremen family-owned enterprise, is satisfied with his decision: "In our business we have to react quickly and flexibly to the wishes of our clients. The solution by Tele-Trac und w3logistics helps us here by assisting and considerably relieving the drivers and especially our dispatchers!"