Another VDKL member using w3/max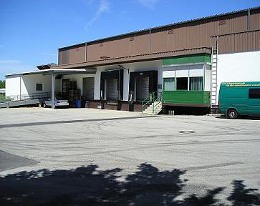 In March 2013, the cold store Bayerwald from Ruderting started using the standard warehouse management system w3/max. Thus w3logistics from Dortmund has equipped another member of the VDKL (an association of German cold stores) with the cold store edition of its software solution that has been specially tailored to meet the requirements of cold and chilled stores.
Bayerwald Kühlhaus was founded already in 1980 at its current location in Ruderting not far from Passau. The company's focus lies on the various warehousing services that the cold store provides for its clients. Now the standard warehouse management system w3/max by w3logistics has been introduced to ensure that the company will be able to keep the high service quality level even at future growing turnover rates.
w3/max includes many important features that are indispensable for a WMS in the cold store industry. Using w3/max's warehouse explorer, Bayerwald Kühlhaus can now easily define storage places, zones and areas with individual properties, e. g. different temperature areas, on their own. In addition to the warehouse topology management, the system offers article master data management, automatic billing and support for all different warehousing processes. Most important are also the extensive functions that guarantee traceability of goods, e. g. the possibility to store and analyse not only batch numbers for every article, but also arbitrary customer specific additional information.
With w3logistics, the cold store Bayerwald has now a partner that offers every service regarding the warehouse management system w3/max, starting from installation over maintenance and enhancements.
"The introduction of the warehouse management system in close co-operation with w3logistics worked seamlessly. The support of the daily work processes was already recognisable after a very short time", says Otto Luksch, managing director of Bayerwald Kühlhaus.