w3/tms – Transport management from A to Z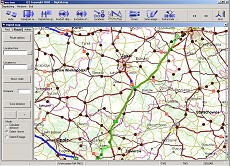 With w3/tms you plan, control, and monitor your transports, with our mobile solutions we transmit your orders to the driver and his status reports are sent back into your system.
w3/tms supports your schedulers by providing the possibility of specifying freely definable boundary conditions for vehicles and goods. For sales and accounting, arbitrary price fixing procedures can be defined in the system.
Thus, w3/tms is suited for companies with own fleet as well as those which have completely or partially outsourced transport. w3/tms supports you in order preparation, billing, calculation and comparing offers.